Kermanshah Science and Technology Park

Kermanshah Science and Technology Park (Kermanshah STP) established in 2006. Actually before establishing Kermanshah STP it was the Business-Technology Incubator that begun its activity as supporting entrepreneurship and commercialization of knowledge based and high tech products through providing variety of services including finanancial support, consulting and office.
After that and in 2006 Kermanshah STP developed  the mentioned incubator activities so that this STP is now composed of 6 incubators and many related centers acting in various field of technology.
Through the past decade, Kermanshah STP has been cooperating with IASP, ASPA and World Bank (using InfoDev program), and has received a lot of services.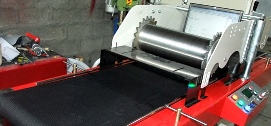 Our activities cover every fields of innovation and technology in Kermanshah provience, Specially agriculture and ICT, so that these two parts perform their activities through 2 professional Incubators.

During past years, more than 251 tenant companies and individuals have been recepted in Kermanshah STP and directly obtained services.  Meanwhile, a lot of students and skilled workers have been trained in practical workshops.
Reducing unknown risks of startups and supporting them to grow faster are main goals of Kermanshah STP. To achieve these goals, we strongly believe in international cooperation based on mutual respect.